Need to Brush off the Cobwebs, Write and Perform again?
The Comedy Accelerator is for for comedians who have completed a beginners comedy course (with any provider) and have at least a few gigs under their belt. The workshops run on the first Thursday of each quarter. There are 4 workshops a year for acts who want to up their game, get their mojo back and see a real improvement in their comedy.
These sessions are now available online and live so you can tune in from anywhere.
There will be comedy gigs on offer, promoter introductions and opportunities to run your own comedy nights. You can step back and assess how your comedy's going. What's working well and what needs improving to be the best comedian you can be. There will be lots of writing and performing and a chance to gain insightful feedback and share competition and gig info.
about the workshop
There's pre-work before each workshop so that you get the most out of the sessions. You're more likely to improve when you have clear objectives, check ins and deadlines. If you want to take your comedy and take it to the next level, these workshops will help. There'll be set tasks and action plans to complete in-between sessions to motivate your progress.
There'll be plenty of writing exercises to help you produce new material and edit it to its best. You'll be more analytical with your comedy writing and performance. How can you stand out in a crowded industry and deliver a set that makes you memorable with the audience and promoters? Each workshop will concentrate on a different element of Stand-up e.g. how to book longer gigs, how to go about securing paid gigs, how to improve your delivery and timing and how to raise your profile.
With expert advice, set tasks and accountability you'll be able to monitor your progress and make a wider impact within the comedy industry.
Book your place
When: The First Thursday of Every Quarter 
Time: 7pm-9pm
Location: The Quadrant, Queens Road, BN1 3WA
A one off workshop trial is possible. Just drop us a message to arrange.
Workshops for 2022/23
1st September
1st December
2nd March
1st June
Let's up our game and take our stand-up to the next level.
What they said about the workshops.
"The Comedy Accelerator is aptly named. During the past 6 months, it's accelerated my progression from 5 min spots on open mic nights to 10 min paid spots on pro nights. It's also helped me make it through the Gong night, comedy competitions and achieve paid MC gigs.
For a developing comedian, it's so many things. Louise's input, advice and exercises as a seasoned pro is obviously invaluable and helps push yourself and step out of your comfort zone. It's a place to try out new material and receive constructive feedback from Louise and the other comedians.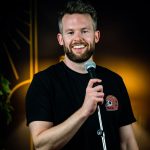 There's a real "team" vibe to help each other get better, find gigs, organise photo shoots, edit videos, organise our own comedy nights, motivate each other and most importantly have fun!
I look forward to it and I highly recommend it." Keefy Jewell
——————————————————————————————————————–
"This is the third course I've done with Louise, and I cannot recommend it enough.
The Accelerator course has been extremely useful, not just for trying out new material and gaining invaluable feedback about structure, delivery, and performance, it's also been a great source of new gig opportunities.
By sharing information, we have been introduced to comedy competitions and nights (some new, some restarting after lockdown) that are run across the South coast and in London. It's also an ideal way to get stage time and to build confidence back up.
The classes allow you to assess yourself properly; how much new material have you written? How many gigs have you done and how many have you got coming up? How are you altering your set to build a strong 5 mins into longer sets?  And what level of audience participation are you delivering?
Definitely worth it!" Tony O'Hara 
ANY QUESTIONS?
FEEL FREE TO
DROP US A LINE.
OR GIVE US A CALL.